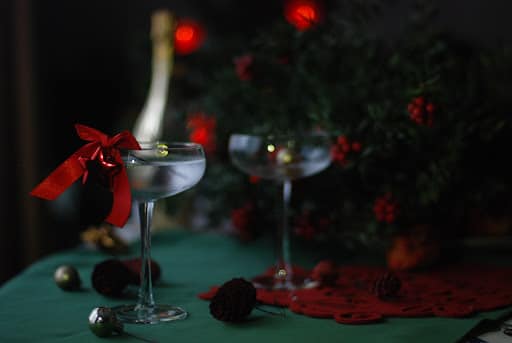 The countdown to Christmas has officially begun! Take a peek at our exclusive Christmas cocktail selection and treat yourself with us at Mount Pleasant Hotel, right in the heart of the Great Malvern. 
Available from Friday 3rd December to 25th December we're offering cocktails for £9 each (2 for £12 Friday and Saturday 5 pm–7 pm). 
We've curated a selection of celebratory cocktails for you to enjoy. Take a look at the options below…
    
Gingerbread Martini  
This festive take on a classic cocktail is sure to lift your spirits this Christmas. Composed of a classic base of Vodka, a dash of Bailey's Irish Cream, a hint of Kahlúa, an infusion of gingerbread syrup and topped off with silky-smooth pouring cream and a dusting of brown sugar. 
Warm your stomach with this twist on an old favourite! 
Baileys Orange Bliss
If you're feeling indulgent, why not try our decadent Baileys Orange Bliss. This zesty take on a staple of Christmas tipples is a perfect after-dinner treat. 
Enjoy a chilled glass of Baileys Orange Truffle Irish Cream with a dash of Grand Marnier liqueur, shaken over ice and served with a twist of orange. This delight is a wonderful refresher to end the night and a hit with fans of a family-favourite chocolate orange treat. 
This cocktail goes particularly well with our trio of chocolate desserts which you can find on our Christmas menus. 
Flat White Caramel Martini
Searching for something that's not so sweet? A Flat White Caramel Martini is a perfect choice! 
Fans of espresso martinis rejoice; our Flat White Caramel Martini is even smoother with a touch of Baileys. Half vodka, half rich espresso, served over ice with a swig of salted caramel Baileys, this fabulous drink is decorated with a sprinkle of chocolate powder. It's sure to liven up your taste buds as well as your night. 
Cherry Bakewell Martini
Looking for a sweet treat to wrap up the night? This Cherry Bakewell Martini is sure to hit the spot. 
A refreshing mix of spicy amaretto and bold cherry brandy topped off with a dash of tart cranberry juice and cherries to garnish, it's a delicious kitsch beverage that matches well with our zesty lemon tart. 
Prefer traditional beverages? Ask for our alternative cocktail menu with iconic drinks available all year round. Browse our wide selection of alcoholic and soft drinks from our Bar and find your favourite tipple or discover a new love. 
All recommended pairings are available as part of our Christmas and New Years menus.  If you're looking for activities in Malvern this Christmas, take a look at our Christmas in Malvern blog!